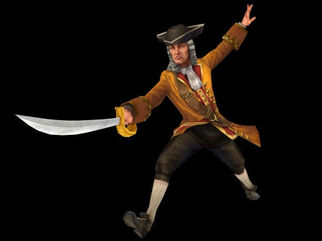 Stede Bonnet is the 5th most Notorious Pirate. He sails a Brigantine and has a treasure worth 5,000 gold.
The Real Stede Bonnet
Edit
Stede Bonnet Wikipedia Article
Stede Bonnet was known as the "Gentleman Pirate" because he was a wealthy landowner before turning to piracy. He was an Englishman living in Bardbados up until having marital problems in 1717 and he turned to piracy. He died but a year later by hanging. He did serve on Blackbeard's ship for a time before leading his own crew.